Onionhead
So what ever happened to Onionhead…
The golden age of Onionhead was between 88 and 91 when our heroic guitar toting 5 piece stumbled about the country and released three 12 inch singles. You may have seen us stumble.
The story starts in 1984 when Sean and I met after starting a Sociology degree at Birmingham Poly. We both started a week late, me because I applied late and Sean because he had been on holiday. I knew he'd been on holiday because he showed me his holiday snaps with the cheery commentary "here's one of my girlfriend … and here's one of my cock".
Sean lived in the next street in Alum Rock. After an unfortunate pubic hair in porridge incident, one closet fascist moved out of my shared house and Sean and his guitar moved in. Sean's repertoire at this stage consisted of Simon and Garfunkle's The Boxer as he believed that being able to play this made him sensitive…therefore he would always play it on the off-chance that girls were in the room, in the house, or just walking past. Over the next year we played and wrote simple direct songs, whose titles reflected their lyrical concerns. So a song about Julie Christie was called Julie Christie Song and Hey Red Bus was a song about being transported out of one place and into another. This was not Haight Ashbury it was Alum Rock.
Jules was in the last year of an English degree and midway through a full blown music obsession. He lived in a nasty flat with Bill. According to Bill's girlfriend, Bill was the owner of a Thrillhammer. Jules was the owner of a harmonica and some vocal talent. For a long time we did not know any drummers, until we happened upon Ralph Pukin' McGuicken. We'd also struggled with names, or at least struggled to come up with good names. Bad names were easy. More Tea Vicar and Ralph's favourite The Far Canals. The latter only seemed to work with The Pukemeister's Irish accent. Even then it didn't work that well.
| | |
| --- | --- |
| | |
| Was the phone box big enough for our first gig? | May 1986. The actual first gig |
Which brings us to Birmingham Poly, May 86, an anti apartheid benefit with us higher up the bill than our meagre talent demanded. Still struggling with a name, until our future manager Nick's copy of Halliwell's film guide threw out Onionhead., we giggled like loons, had another beer and then played a mighty set of kick ass rock 'n' roll. Actually no. But the stage show compensated. After 4 or 5 songs of bedroom quality had proved that our pursuit of academic excellence had not been compromised by band rehearsals it was time for Sean's sensitive song. Cynics in the crowd and Eagles fans might have recognised the stolen chords from Hotel California. We didn't recognise them though as we were too busy watching the snot globule that was forming under Sean's nose. Sean didn't dare stop playing (members of the audience pleaded and would for years to come) and took to shaking his head, but was still unable to shake off the snotty stalectite. Finally with the speed and finesse of a guitar picking tree frog Sean's tongue darted out to pluck that emerald. The crowd loved it and we left the stage bathed in love, drenched in rock but vowing next time we would do it with music alone. Next time we would also do it without Ralph. We also wouldn't play live again for over a year.
In 1987 We were still years away from the era of Cadillacs in swimming pools and riding Harley Davidsons through restaurant windows (actually we gave our share to Motley Cru) but the band were lucky to survive a 22 mph horror smash (copyright) in a tiny DAF 33 on the way to rehearsals. The give way sign just appeared out of nowhere on a pole by a road junction. So Bill (although given the size of the car and the skill of the driver, we'd have been better off with Noddy), unsure of how to react to this unexpected turn of events chose to drive straight on…and into another car. As our compressed limo turned over I was able to give Jules a sneaky elbow and a heroic black eye. Sean needed to be cut free…his seat belt was OK, it was the trousers that were the problem.
Ed was Jules schoolmate from North Yorkshire, he had learnt to play guitar by listening to The Byrds and Television. He was about to embark on further education. Instead, trustingly, he moved to Birmingham to another of Jules nasty flats without hearing us play. Barney became our new drummer and the whole Onionhead experience started to improve. Sadly the improvements were not noticeable by our second gig, which was in the hallowed halls of Aston University in the Vauxhall Dining Centre. Onionhead at the VD Centre, looked great on the posters and sounded great as long as you weren't there. We were there though, in our own metaphorical rock n roll clap clinic. Embarrassed, in pain and pretending we didn't know each other. Which is how we played that night.
Autumn 1987 and we went into the studio for the first time recording Nicks Pockets, Ruminating and Pedestal.at Rich Bitch in Birmingham. Over the next year we played frequently around Birmingham at Synatras, Cod Club, Hare and Hounds and Irish Centre with bands like The Fantatics (Later to become Ocean Colour Scene), Raw Herbs and The Man from Delmonte. We recorded more demos in summer of 1988 including Smoking Joe and Let it Go.
We played an outdoor gig outside (funnily enough) Birmingham Rep with the Fanatics and Monkey Messiah. As it was the 19th anniversary of Woodstock our set would celebrate the festival vibe. What actually happened was we took to the stage bare of foot and chest, and as the first chord rang out, the power failed. What an entrance. We stood around like Rock Gods of the Apocalypse clutching our guitars and nipples until eventually when the power returned we played to our biggest crowd so far. Some of whom were even to come back to other gigs. We tried our best to put them off though by playing Born to be wild….with drum solo.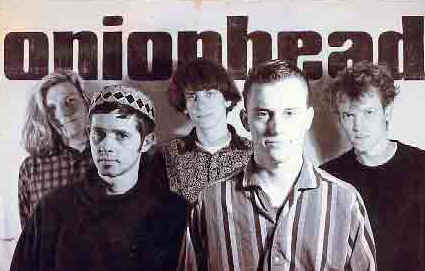 Photo Kate Price
We saw the Sandkings as a 3 piece with Glenn (guitar) singing. That night they were terrific and sounded like Husker Du. They had a deal with London and we learnt a lot through them. Terry (drums) also lived with us in several hygiene challenging houses.
As a band we had some basic rules. Employ your friends, live with them and apply the Lyndon B Johnson approach to management. "I'd rather have him inside the tent pissing out than outside the tent pissing in." Nick "The Figure" Early's initial management qualification was owning the copy of the film guide that we got our name from. For a time we were also helped by Steve Morris who brought contacts and a fine set of teeth (he was also a useful Bingo from The Banana Splits look alike ). He was unable to manage the residential qualification though so Simon Parker "The Anal Barker" was drafted/wafted in from another fetid bedroom. The heavyweight management team was now in place and any campers walking past our tent had better wear wellies. Anyone walking past our kitchen though needed full chemical warfare kit.
We started to play further afield at the Camden Falcon, Hamstead White Horse, and also Windsor Old Trout with the Inspiral Carpets.
http://www.geocities.com/oldtroutwindsoruk/index.htm
In the summer of 89 we played in London at Fulham Greyhound. We got a parking ticket and also got a publishing deal with CBS which was to fund our first 3 singles which we put out on our own Fairweather label.
Just before we signed the CBS deal we were summoned to meet the head of Polygram who was keen to sign a hungry young act with a taste for both sales and bad behaviour on a massive scale. As the rentacar sped towards London, in our heads, Onionhead were now rock 'n' roll demons with companies fighting over them and the renta car was a Pimpmobile towing a trailer load of girls. Unfortunately once in the office the band settled into job interview mode. So when Mr Polygram asked what our favourite part of the demo was, no doubt expecting the cock sure arrogance of righteous rockers, he actually got the reply in (polite) pitch perfect unison (better than our backing vocals then)…"Where the acoustic switches to the electric guitar in Ruminating." Not apparently the correct answer for bad boys of rock. We were the politest men in rock, a band who would tidy up hotel rooms and maybe flick between channels rather than chuck TV's out of windows. On the way back home the Pimpmobile turned into a sensible family saloon towing a caravan and our career at Polygram went down the chemical toilet.
Dudley JB's 16th March 1990 (Photos Kath Greaves)
The day we signed the CBS deal became the stuff of legend in our own heads. One of the CBS staff turned out to be the son of the man who turned The Beatles down, and then the fridge doors were opened. Yes CBS did maintain a champagne fridge, which we started to make an impression on. Official photos were taken which show the motley collection of facial hair, cardigans and hiking boots. I can accept responsibility for only 2 of these crimes. Let loose on the streets of the capital we drank more champagne and moved onto a Covent Garden restaurant with Mr CBS and his credit card. This was obviously going to be the start of a whole new and extravagant lifestyle for us and we were going to make some music as well. Sean phoned his Dad and told him he was calling from a Covent Garden restaurant with two bottles of Champagne in an ice bucket by his side. Sean can't remember his exact words…it was either "I'm watching The Bill" or "I'm watching The Bill you tosser."
Nick flushed with success and hammered on champagne demanded "We need more champagne now". CBS felt they'd invested enough already, so Nick explored the cheaper option. "We need beer…now". If most band stories end with the record company squeezing the group dry our story at least started with the boot on the other foot…or the testicles in the other hand. While the rest of the band and Mr CBS shook hands, slapped backs and swore multi platinum success I drunkenly wrestled Mr CBS to the ground and squeezed his plums. I like to think this did not affect the professional working relationship we had with the company from that night, until (like testicles) we were dropped.
We didn't bother with a limo that night preferring to get the train to Borehamwood.
We recorded the first 4 songs at Redditch Workshop which were used on the 12 inch For Niceness. Search Party, Ruminating, Mind the gap, Pipeline. Mike Edwards did the artwork for all the singles and the cover star was Vince Pellagrino who was able to use this experience of being photographed with his mouth filled with snooker balls, nipples in clamps and a trappers hat in his acting career. He was a regular on Casualty, Where the heart is and is also in The Fifth Element. You might recognise him. He's not Bruce Willis and … he's wearing a mask.
We toured with Galaxie 500, playing Edinburgh, Glasgow, Bedford, Canterbury and also more dates with the Sandkings.
The second 12 inch single Ming also recorded at The Workshop included Level X-ing, Ruminating, Funny Way Of Showing It and Onionhead
Level X-ing was going to be our feel good hit of the summer, so Summer 1990 seemed the appropriate time to release it. It was also a good time for the World cup. We toured with the Katydids. They had some great songs, an lp produced by Nick Lowe, Susie Hugg was the saucepot female vocalist and in Adam Seymour they had a great guitarist who had all of Kimberley Rew's moves. He later took those moves to The Pretenders. We played gigs in Bath, Oxford, Stoke, Cambridge, whilst in Italy it was the World Cup and England, against all odds, were making progress. Audiences voted with their TVs and local fire chiefs could rest easy knowing that there was going to be no overcrowding at Katydids and Onionhead gigs.
Still we had a cunning plan. Nudity. The cover of third single Electric Ladland featured a tasteful tribute to the naked women cover of Jimi Hendrix's Electric Ladyland featuring Onionhead, Sandkings, managers and assorted exhibitionists. Again recorded at The Workshop it featured Honest To God, Half An Ark and a cover of the Rolling Stone's Monkey Man. The cover got lots of interest, the single itself got lost. We felt though that nudity was integral to the plot, vital to the role and we did not feel we had compromised our artistic ideals. We did learn a valuable lesson though. It is surprisingly easy to persuade blokes to get their kit off.
Our cover of Gentle On My Mind came out on 1967 Through The Looking Glass (Imaginary Records), an lp consisting of covers of songs from....1967. Our version boasted a 6 minute running time and was a subtle blend of our favourite bits from both the Glen Campbell and Elvis version.
What we needed was more money to release a fourth single. What we had though was a publishing deal that had come to the end of it's initial term with CBS and the feeling that since the A and R who had signed us had left the company, no one else there liked us. It was true we had sold less records than Bon Jovi and possibly less than Bogshed, however we were still writing, still playing and still getting better. We proved this spectacularly to CBS when we played some of our new material. Catharsis was our speed metal audience frightener. Fast, loud and disturbed. We threatened it as a potential single. Maybe the lyrics "Catharsis, catharsis it's a fucking catharsis" distracted Mr CBS from the sound of ringing cash tills. What we definitely heard though was the sound of his car driving off..... Bugger.
We recorded another 2 tracks at The Workshop in the summer of 91. Keep Me In Touch and It Comes Around. Sean and Barney left soon afterwards. So the last gig as a 5 piece was in Birmingham. It wasn't a Rock n roll megabowl enormodome but Kings Heath Hare and Hounds…. We salute you. It was actually a great gig and felt to us like one of the best we'd played. We covered Fire Engine by The Thirteenth Floor Elevators and also I Touch Myself by The Divinyls. Members of the audience were probably not surprised at that revelation.
Mike designed the sleeves for all 3 singles and is also credited with being short, ginger and a phenomenal drummer. So when Barney left, The Red Dwarf, (strangely enough Mike preferred to be known as The Ginger Ninja) picked up those drumsticks and ran. And when he stopped running he started drumming. Sean's rock 'n' roll trousers were generously cut and no else could have filled them (well none of the pint sized pot noodle eaters we knew) so that meant more room in the van for us. We played as a 4 piece at Camden Falcon and then again in London with the Rockingbirds before our last ever gig as Onionhead at Birmingham Hare and Hounds. Roostervelt (staunch chaps) were also on the bill. Nirvana's Never Mind lp had come out and bands were no longer claiming "There's always been a dance element in our music." Guitars were back on the agenda. We even played Smells Like Teenspirit and gave Neil Young's Cinnamon Girl a bit of a kicking.
We still loved guitars and it seemed like the rest of the world was starting to feel the same way again, but next time would be different, next time we would be Tenderloin. But that's another story, high in big dreams, bigger cock-ups and some thunderous tunes that not enough people heard.
If you can't see the contents window on the left of this page go to