Onionhead
Despite the charts being clogged by cover versions sung by ..... well you know so I'll stop ranting... I'm still a fan of covers. A good cover can be a chance to reinterpret a song, bring something new to it and show the audience what kind of a band the actual band think they are. The band that's in the musicians heads is often a completely different band to the one that's standing on stage. Sometimes a cover is just funny. So this is a list of other people's songs we played...in many cases badly.
Where do you go to my lovely - Peter Sarstedt. Not strictly a Onionhead cover as we never played it as a band. However Sean and I were in awe of the lyrics and so we used to play it before we met Jules. "With your carefully designed topless swim suit, your loveliness goes on and on , yes it does".
Driver 8 - REM. We played this at the notoriously bad second Onionhead gig. We learnt it the night before the gig and I had never heard the original. Not a great version, and probably a worse performance so the only thing to do was to repeat it a year later at Lampeter university, where once again it was poor and underehearsed.
Rocking all over the world - John Fogherty/Status Quo. Played this as a knockabout encore at some early gigs. I remember playing it at an early gig at Birmingham Poly (Possibly with The Boaty Man). Our version was mercifully brief as we played it too fast and too badly, so the song would collapse after a minute so. Jules never really got to grips with the lyrics so he just sang "I like it, I like it, I la la la like it"
This house is not a motel - Love. We used to play a section of this during The Nearest Door which was an early Doors type song.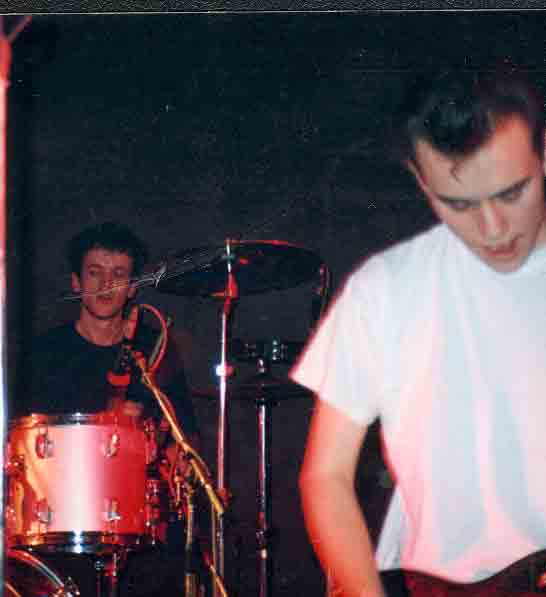 Born to be wild - Steppenwolf. We always used to finish rehearsals with this but cruelly played it in public a couple of times in 1988 at Birmingham Rep and also Hare and Hounds. "Heavy metal thunder" indeed.
Helter Skelter - Beatles. Almost played in public. We played it a few times in rehearsals, but I felt a bit cheated when U2 covered it for Rattle and Hum accompanied by Bono nonsense about reclaiming the song. The Beatles original sounded brutal and Siouxsie and the Banshees had kicked it into a different shape on The Scream. It didn't need reclaiming. It just need us to make a righteous racket, with me playing a bendy bass line and Ed and Sean doing horrible guitar scraping on top.
Blue Christmas - Elvis Presley. Funnily enough played this at around Xmas at Birmingham Cod Club. Great twangy guitar solo from Ed.
Run Rudolph Run - Keith Richards. Another Christmas classic for the delight of the Cod Club. Sub Johnny Be Goode effort but a good excuse to sing "All I want for Christmas is a rock n roll electric guitar."
Pretty Woman - Roy Orbison. The Big O had a few fans within the slightly smaller O that was Onionhead. We played Pretty Woman at the Cod Club just after he'd died.
So you wanna be a rock n roll star - Byrds. We used to play a great thrashy, garage band version .The original version has bass, guitar and trumpet weaving round each over. Our version dispensed with such subtlety in favour of all playing the same thing, loudly, as if guitars were implements for digging up roads. I remember playing this at Aston University in 1988 and getting a bad giggling fit. As if wasn't good enough to play a song with the lines "With your hair cut right and your pants cut tight, you know it'll be alright" Jules's rock n roll job description included the lines "Fuck all night and sleep all day." There was never any disputing Jules's sleeping abilities.
Witchita Line Man - Glen Campbell. Glen's Greatest Hits was never far from the Onionhead stereo. During an early interview with Stuart Maconie for the NME we interpreted his shared interest as a plea for us to cover it. So we did. I remember playing this one at a Cod Club gig summer of 89 with additional fiddling supplied by Martin. He lost his clothes on the Electric Ladland sleeve, his violin lost it's tuning on the night.
Tour Spiel - Minutemen. Always liked playing this one, remember playing it at Alice's Restaurant Coventry and Dudley JB's. Great riff that you could lean into, obligatory rock n roll lyrics, "Goin' to sleep in the van" and for me there was the additional terror of whether I would be able to play Mike Watts mighty bass line.
Could you be the one? - Husker Du. A live staple for us through 1989. Good song and an example of a cover showing what we thought we were rather than what we actually were.
Shake some action - Flamin' Groovies. Played this a lot during 1989, remember playing it when we supported The Sun and the Moon on 5 or 6 gigs. More great twangy guitar "To make it awwwwl right" I always thought the guitar sound on this and Another girl another planet by The Only Ones was the closest thing to what Ed was doing at the time. Ed will obviously disagree but it's back to the idea that the band in your head is different to the one on stage.
Paisley Park - Prince. Rehearsal room only and never really got to grips with it. We didn't try and reinvent it and so, without the layers and effects that Prince used, our version sounded like a nursery rhyme. Onionhead in "Not as talented as Prince" shocker.
Christine - Flying Burrito Brothers. Jules and I were both a big Gram Parsons fans. We worked this out as a possible cover for a companion to the Imaginary lp 1967 Through The Looking Glass but based on songs from 1969. We never played it live and ended up recording Monkey Man by the Stones instead which we then released on Electric Ladland.
For what it's worth - Buffalo Springfield. We played this for ages, as a song it's got everything and you could use it as a lesson for bands in dynamics. We played it straight and then tagged a (ahem ) freakout on the end in the same vein as Stone Roses I am the resurrection. We once played it with the CandySkins in Cannock at one of our last gigs in 1991.
Gentle on my mind - Glen Campbell. Released on 1967 Through the Looking Glass but I don't think we ever played it live.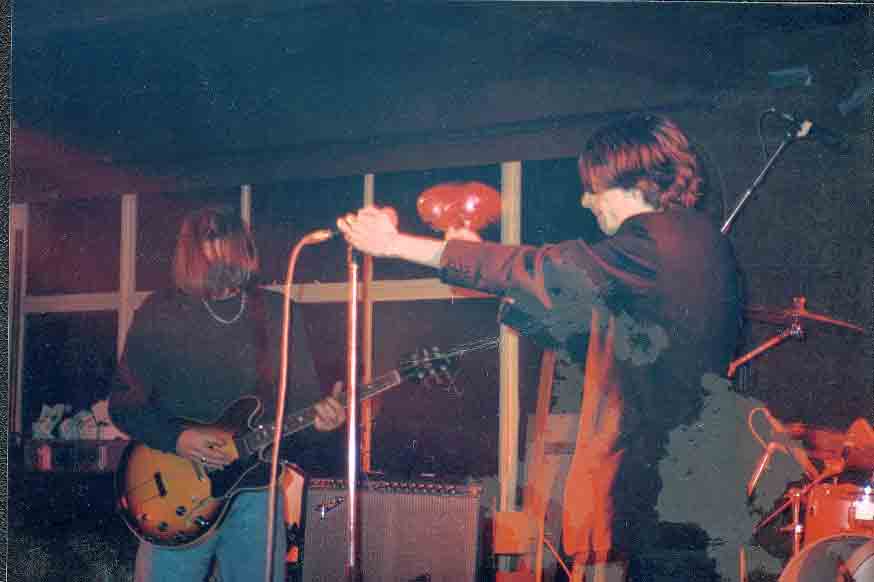 20th Century Boy - T Rex. That opening guitar DRUNG, gives fair warning that there is some mighty rifftastic guitar playing ahead. We played it quite a lot in rehearsals but never quite got onto the rest of the song. We supported Soul Asylum in New Cross and they did a great version in the sound check. I don't think we bothered again.
Monkey Man - Rolling Stones. Released on Electric Ladland, the Stones original on Let it bleed is quite subtle but we went for a spiky Happy Mondays feel. Just in case people didn't get it Jules goes for an "ah ah ah AH AH " Sean Ryder type vocal snippet. Jules and Barney remixed it by basically turning everything up, which is the version which was released. I still like loud. We played this live a few times, once at an East London Poly gig.
Downtown - Crazy Horse. Don't think we ever played this in public, but we liked the words, a thoughtful meditation on the difficulty of buying drugs ....downtown. "Pretty bad when you're dealing with the man and the light shines in your eyes"
Paintwork - The Fall. We only played this once at York University in 1991
Happy - Rolling Stones. This didn't get out of the rehearsal room. I always liked Keith Richard's cracked vocal and the way the bass line trailed behind the rest of the song. The lines "Always took candy from strangers, always had a hole in my pants" obviously spoke to Keith but for us it was the line "Never got to ride on a Lear Jet". We still went to rehearsals on the bus.
Burning Love - Elvis Presley. Again didn't get out a public showing but it amused us in the practice room. "Hunk a hunk of burning love" with the middle 8 from Rocks off by The Stones grafted on.
Dance dance dance - Beach Boys. Another rehearsal room only, but everyone needs a song about loud music in cars.
Rockin' in the free world - Neil Young. We played this live a couple of times, and definitely once in Liverpool at Planet X. Our version was straight and probably a bit too respectful. Later that night we were introduced to The Bucket Bong which both demanded and received respect....the bucket received many tributes that night.
Fire Engines - Thirteenth Floor Elevators. Television covered it live and I don't think any of us knew the original. We used the opening section as an intro to one of our own songs at our last ever gig.
I touch myself - Divinyls. This was in the charts when we covered it at our last gig as a 5 piece. I like to think our version added new subtleties to the original... Alright then, it's a comedy cover which we liked because it was about masturbation
Smells like Teen Spirit - Nirvana. Played this at the Hare and Hounds at our last gig, as a 4 piece with Mike on drums. I'd love to be able to claim great foresight and vision on our part by covering it in November 91, before it became obvious just how significant Nirvana would become...but I can't. We played it straight and liked it because of it's Pixies feel.
Cinnamon Girl - Neil Young. Played a ragged version as with assorted members of Roostervelt as an encore at our last gig at the Hare and Hounds.
If you can't see the contents window on the left of this page go to