Tenderloin
After the final Onionhead gig in November 91 the four of us had no intention of stopping. We hadn't finished with Rock even if Rock thought it had given us the slip.
We wanted to re-launch ourselves as a completely new band, new name, new members…same pants. The name Tenderloin came from one of San Francisco's less salubrious districts and also crops up in a William Gibson book. More importantly though, filth fans…it included the word "loin". So now that the four politest men in rock had a suitably sleazy name, we needed a guitarist who could help us live up to it. We also needed someone who knew which way round to hold their instrument.
Audition number 3 turned up Dave Heimbecker, a 17-year-old Canadian who had wound up in Dorridge (which was not even the rock n roll capital of Solihull) as part of his multi national corporation executive Dad's relocation package. A few seconds into what would turn out to be an unfeasibly long version of Neil Young's Down By The River it was apparent that Dave had mastered the "trap door" guitar sound. He played like he was struggling to keep the zombies in the cellar, you could hear they were there, they'd bang on the cellar door, a ragged arm might appear, or a head but, he'd wedge the trap door again…but they'd still keep bursting out causing guitar mayhem before he'd force them back in.
He loved the Grateful Dead and (bizarrely) The Police, army surplus trousers and colour change T shirts.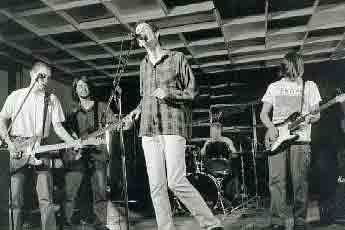 Tenderloin rehearsal 92, Mike on drums and the only known photo of Dave, or rather his hair.
We developed really quickly as a band. We took two Onionhead songs with us (It Comes Around and Landlocked) but the song writing and gelling as musicians was natural and came easily. Jules, Ed and I had been playing together for 4 years and had known Mike for a similar length of time, although he had only been drumming with us for 6 months. The songs we were working on were deliberately harder than the Onionhead material, making much more use of the guitars bouncing off each other and Dave's Trap door guitar sound. I was playing simpler bass lines and Mike was going for a less is more but make it loud style. Hit it hard and make it count. The Country flavour had gone and the cowboy boots were back under the bed. We were listening to Nirvana, Sugar, The Pixies and Big Star. Jules's tender love affair with The Beach Boys had become a frankly unpleasant bunk up with Black Sabbath.
Our first gig was Wolverhampton with Roostervelt and an acoustic duo featuring Trish Keenan from Broadcast
Two months later we recorded a session for Paul Flower's Radio WM Show at the BBC studios at Pebble Mill, that proved just how far we'd come. The engineer listened to us warm up, chose the mikes to suit the sound (including a 1950's mike), we recorded it live in a couple of takes, vocals, and a guitar overdub or 2 and back the next day to mix. And that was it…easy. As far as I was concerned we had three and a half (well you've got to be picky, haven't you?) well recorded, well played and arranged songs. We were utterly confident that Tenderloin would go further than Onionhead. Oooh missus…we were going all the way. A few more gigs, some label pestering and then success and choice of American or Japanese girlfriends would be ours. This was a plan so foolproof that we would even manage ourselves.
The session went out over the airwaves across the nation (well from Stoke to Coventry) and the tapes went out in jiffy bags to A and R staff who would hopefully not be able to resist the nipple tweaking cover designed by Mike or the musical delights within.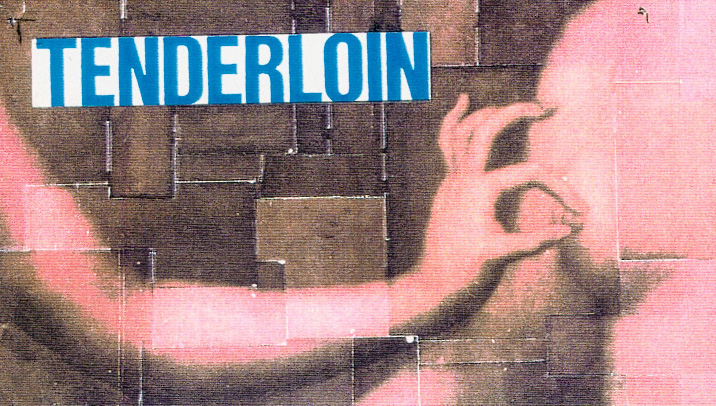 Happy Trails started with all of us hammering on the same beat, a falsetto doo doo doo doo vocal intro and then off it went…with a great poppy feel and a frantic final verse.
Coming up for Air. Deliberately grungy, great vocals from Jules and some inspired lyrics "Lady Luck drives a pickup truck" and Dave's opening chords sound like he's so eager to join in that he's run across the room and kicked some chairs over on the way.
Everything is in it's place. This song captures Ed's style to a tee. He'd learnt guitar by listening to Beatles and Byrds records and when I first heard the guitars on Big Star's #1 lp I was struck by how similar they were to the linear chord progressions that Ed liked to use. Everything Is In It's Place has a Big Star/psychedelic feel to it with Dave playing a Grateful Dead type acoustic solo that mutates into a Captain Beefheart style cheese wire guitar solo.
Bridge Song. Pixies type circular riff which sounded fantastic but the vocal line was still a bit work in progress…. it was also a bit Bob Dylan and also generally, a bit rubbish. There was a great bit at the end though, where it sounds like the guitars couldn't keep up. They probably couldn't, but it actually works better for it. Towards the end of Otis Redding's Try a Little Tenderness the song breaks down and Otis does his trademark "Gotta gotta gotta" trick. It's a classic soul moment, which everyone knows and loves. When Percy Sledge recorded his version it sounds like when he came to that same section, he doesn't know whether or not to try and outsoul the soul man. So he ends up squeezing out a "Gotta, gotta "or two before giving up with such a heartfelt groan that it actually works better. Obviously I'm not claiming that Tenderloins unloved Bridge Song should be standing in the same bus queue as those two soul masters…all I'm saying is…"Sometimes I like the mistakes better."
Our first London gig was at Camden Falcon supporting Peter Astor. They needed the soundcheck as a rehearsal and reckoned that they were more popular in France. The Spinal Tap translation would be "Becoming more selective in their appeal". They were popular enough in Camden though.
We played frequently in London (usually Camden Falcon or Bull and Gate with the likes of Subjagger, Mother Earth and Hooten Three Car) whilst in Birmingham we played at Moseley Jug of Ale and Pen and Wig. We did once stray as far as Bradford Alhambra with Monorail who had a really good pop soul sound and were last seen on the National Lottery show. The night ended in tears though, and an empty petrol tank.
We could still not resist a cover version though. We definitely could not resist American Trilogy complete with Dave doing his trap door guitar sound on the star spangled banner section and all of us trying to do Elvis karate moves whenever our limbs didn't actually need to be in contact with our instruments. The comedy cover that completely eluded us though was Queen's Don't Stop Me Now. We'd got really confident musically and so it was a shock to us to find we couldn't actually play it in a recognisable form and although Jules could do the Freddie strut with a short mike stand, he didn't have the same vocal range, or the dwarfs with trays of coke balanced on their heads following him around, or the backstage blow job tent for the pre encore pick me up. More's the pity.
We used to do a really good version of Who'll Stop The Rain by Creedence Clearwater Revival, which we gave a London Calling era Clash type feel. I remember playing this at the Jug of Ale, with Jules dressed to impress in mascara and smoking jacket.
Mike and Ed built some of the outsize living room furniture that Blur used as part of their stage set in 1993. Blur had been playing a new song, which Mike told them, didn't work. Obviously that song was their career reviving Girls And Boys. We later supported them at Birmingham Irish Centre. Their Tour manager Ifan Thomas wanted to get involved with the band but sadly the record buying public didn't agree with Mike's critical assessment of Girls and Boys. Blurs career picked up. Ifan got busy…we went back to plotting in the pub.
Things started picking up at this time, Peter Paphides who (unknown to us at the time) had been an Onionhead fan was writing for Melody Maker. The logic was simple…play a great gig…get a great review…we could give up our paper rounds. Andy Hackett from The Rockingbirds always came to our gigs and wanted to help. One night after a gig at the Falcon we were all due to stop at Onionhead's long lost manager Nick's Clapham love nest, but the hire van was due back early morning. The signs were not good as Dave and Ed disappeared into the night with Andy Hackett and a member of Primal Screams entourage. Obviously a night of restraint and temperance was not on the cards but miraculously angels delivered them back to us next morning. It must have been angels, as no taxi would have stopped for our two dribbling guitarists. And the hire company got their vehicle back. (Purveyors of all forms of Transit to Ruby Turner, FM and ELO 2, with the promo pics on the Portacabin wall to prove it) We supported The Rockingbirds at Islington Powerhaus the night before one of Dave's exams. All our good intentions about getting him back early and exam ready fell by the wayside as he lurched across the dance floor to The Black Crows. The damage had been done.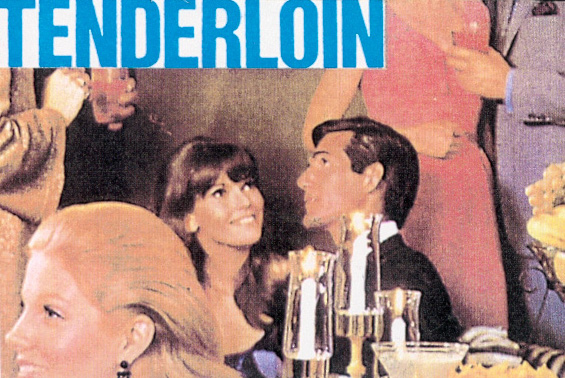 We played at Wolverhampton Poly supporting the Tansads. Just as we were going on stage the Ents officer said that one of the guest list places had been taken by an A and R man who hadn't (as far as I knew) seen us in London but had been interested enough to make a trip to the midlands. We all played brilliantly that night, Jules's stage performance and vocals oozed star quality and we rocked with a capital ROCK. At one point Dave just pogo-ed round and round in circles, pulling off a great piece of guitar WANG but stopping just before the lead that had wrapped round his legs, pulled off his amp. As we played and realised just how good we were that night, we all knew that no one who saw us would be able to resist. A recording contract would be ours before the post gig beer. After the gig I looked round for Mr A and R. The Ents Officer had described him as wearing as baseball cap…the only person I could see matching that description was Steve The Hat, friend of The 'Loins, bald headed and be-hatted and as it turned out…. Guest List Impostor. We'd played the best gig of our career for our mate from the pub.
Andy Wicketts had been in the original Duran Duran line up but in 1993 he was singing with World Service. He was a very clever songwriter and really engaging frontman. Jules, who had plenty of great moves himself, was actually quite in awe of him as a performer.
We recorded 4 tracks at Andy's home studio set up at his house in Erdington. Feels Good To Know, It Comes Around (an Onionhead song), Moonshine Hollow and Re-aligned (a re-written version of Bridge Song recorded at the BBC the previous year). The sound of the tracks we did with him though couldn't shake off the sound of an Erdington bedroom. Within earshot of Spaghetti Junction doesn't have the same romance as The sound of the Westway.
Things were coming to a head with the band though. We played with Elizabeth Jane at Birmingham Exposure (suitably enough it's now a lap dancing club) on the night of Dave's last exam. He brought a whole new level to the concept of drunken guitar playing and heroically staggered home with…an older woman. But his exam results hit him like the inevitable hangover. In Bill and Ted's Excellent Adventure, Ted was threatened with Colonel Oates military academy in Alaska, Dave, however, was shipped back to engineering college in Canada. Most Heinous.
His last gig with us was at Dudley JB's. Once again…we were great and we finished with a thunderous version of The Rocker by Thin Lizzy.
"Down at the juke joint me and the boys were jumpin'
Bippin and boppin'and tellin' a dirty joke or two
In walked this chick and I knew she was up to something
So I kissed her right there, out of the blue"
I'm sure you did Phil Lynott…I'm less convinced you did Julian Gray.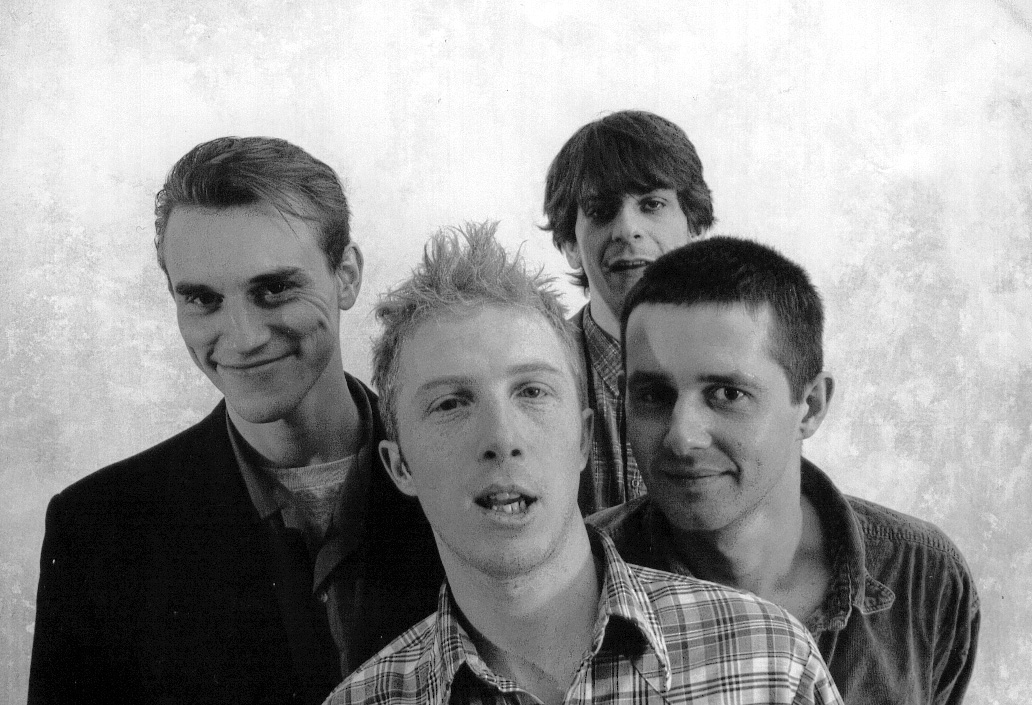 Tenderloin....93's fruity foursome
Tenderloin were in a tailspin. We'd heard promising sounds from the A and R at Radioactive. In the following year they would put out the first Black Grape Lp and a single by Cooler Than Jesus (one of whom ended up in Menswear). But then Radioactive stopped returning Tenderloin phone calls and instead concentrated on Traci Lords. Just why would they choose to work with kit off US female porn star when they could develop a musical relationship built on respect and mutual understanding with the by now 75% bearded, generally clothed and 100% male Tenderloin? What could she do that we couldn't…apart from three men at a time? We were baffled and stunned.
We started playing acoustic gigs as local promoters had realised that as audiences for live bands were reducing, smaller PA's meant lower costs. Acoustic gigs were fun at the time because it was an excuse to learn and play new covers. We used to play Velvet Underground's Who loves The Sun, Scott Walker's Duchess, Neil Young's Look Out For My Love, Gram Parson's Brass Buttons, Beatles Two of Us, Pete Townsend's Mary Ann with The Shaky Hand, Squeezebox by The Who and The Beach Boys I'd Just Once Like To See You (In the nude). Yes musical scholars will have noticed that we didn't need to be asked twice to play a song with a double entendre.
We played at an acoustic gig Birmingham Que Club in March 94 with Dean O'Loughlin (who'd later show up on Series 2 Big Brother). This was one of a handful of gigs we played with Steve The Hat on guitar
Mike had moved to London and shared a flat with Guy Massey who was an engineer at Abbey Road (and also Vince Pellegrino who was an Onionhead cover star and an actor in his own right). This led to our biggest and best adventure and the recording that I'm most proud of. Studio 2 (yes those Beatles and yes that staircase) had been block booked by Cliff Richard apparently for recordings related to Heathcliffe the Musical. Mind boggling stuff. The most famous Christian in pop was not likely to be working over the Easter weekend…so we did. It apparently took Paul Weller 17 years to get to record at Abbey Road and we were doing it without a deal.
We recorded Feels Good To Know, which Steve The Hat had added some detuned Stones chords to and Mike came up with a great piano part which could not have been more seaside sounding if it had worn a kiss me quick hat and had sand and dog shit between it's toes. The song had developed from an AC/DC type riff that Ed had come up with as a band intro over a stuttering, changing time signature beat. (Not quite as Prog Rock as it sounds) The first few times we played the riff we just used to giggle at our audacity and I definitely remember us playing just the opening riff as an intro at the Blur gig at Irish Centre. By now though Jules had got a great vocal line, I took my bass line walkabouts towards the end of the song and Mike did the absolute drumming business.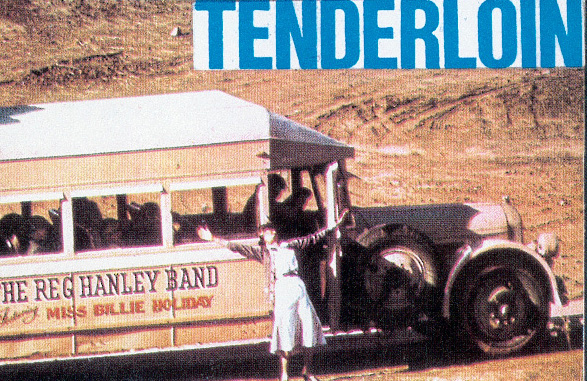 Underneath The Stars had a Kinks vocal influence and a soul/rock feel like Groovy Times by The Clash. The vocals were sped up to give Jules a younger, breathless, eager sound. It was a song about young love after all.
The next band due in were Radiohead. Guy was really excited about it. This would eventually (and elsewhere) turn into The Bends. At the time I didn't share Guy's enthusiasm (Mike and I had similar talents when it came to misreading the zeitgeist). That time I was definitely wrong.
Despite the fact that they were both strong songs and the best quality recorded work we'd done, we couldn't raise any interest from anybody. Brit Pop was just surfacing and we still didn't fit in. In fact I'd seen Oasis at The Jug of Ale in Moseley 3 months earlier, playing in a pub to 150 people who left as soon as they'd finished. I thought Oasis were excellent, but unlike the other 149 peoples, I have to report that it was the headline act that I'd gone to see. The Faces meets Jimmy Krankie sound of…Whiteout. Once again I'd missed the Zeitgeist and the bus.
Our last gig was an acoustic night at the Birmingham Flapper and Firkin. Our costs were minimal, the share of the door negligible. I put the fiver straight in the pinball machine.
And that was it…Tenderloin fizzled out, no tantrums, or walkout's, no musical differences…if anything it was musical indifference as we just couldn't find any one who loved the band as much as we had. Jobs, houses, children, wives, girlfriends (all in varying combinations) took over. There were still bands and music though…Mike played with The Fleapit Orchestra; Jules formed Parachute with ex members of L Kage and issued 3 singles on the Fortune and Glory label. Jules now performs solo and has put some tracks out through Oporto. Ed and I played stripped down "Punk Rock Northern Soul" covers with sax, drum machine and a female vocalist. Ed now plays bass in Special Needs with Steve the Hat.
I'm not playing at the moment, but that's OK…after all, I was the bassist in two of my favourite bands.
If you can't see the contents window on the left of this page go to