Onionhead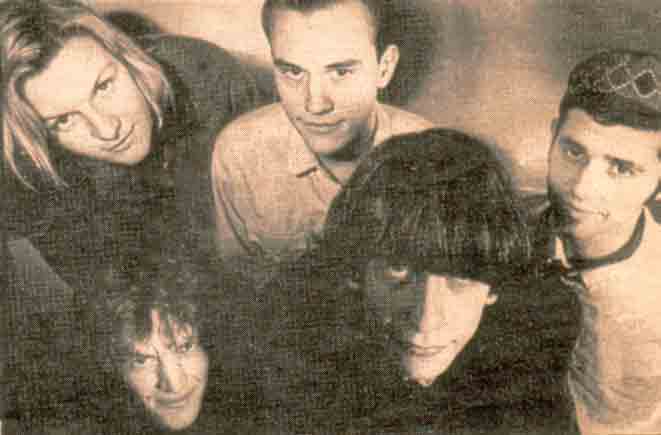 Photo Dave Travis
Listening to the rolling country rock and the distinct Stateside vocal twang of Onionheadís debut "Search Party" EP Ėout this week on the bandís own Fairweather label you could be forgiven for thinking Onionheadquarters was sure to be based closer to Birmingham, Alabama, than in the suburbs of itís chilly West Midland namesake. But, when I tell you lead singer Julesís cavernous smiley gob reminds me on none other than local hero Don Mclean, make no mistake Iím talking "Cracker-jack!" ("Crack-erjack") and "American Pie".
Onion head spent long stretches of last year loping enthusiastically around Britain on the heels of (amongst others) Galaxie 500 and The Darling Buds, during which time they attracted some canny press, some un-canny onion puns and a neat sponsorship deal from those nice people at CBS Songs.
A lengthy process of musical cross-breeding had finally confused a series of jangly US rip offs to the very brink of originality! "Search Party" is a clattering Verlaine acoustic rush. "Ruminating", the best EP track, is pure R.E.M. piling up against Ricky Skaggs. Jules shrugs off accusations of Stipeism with great good humour. Indeed the whole lanky Dougal Dog bunch act as though ego and arrogance were going out of fashion. Onionhead all live together in one big house, just like The Banana Splits. They warble and strum guitars and would like to be a big shiny pop group -so why not cut the analysis and give the POPSTAR treatment they so richly deserve.
With a minimum of prompting, Jules discloses that his favourite colour is "very dark green". But why are the band named after a 1950ís style porn placebo paperback?
"No-oneís been able to bring themselves to read it," bassist Sammy explains. "Itís just the girl on the cover- sheís wearing a sailorsí cap and a little hoopy topÖand then just her knickers".
Fave colour. Band name. What about hobbies?

Ed: "Girls"

Barney: "Girls"

Sean: "Girls"

Jules "Girls"

Sammy: "Er.. tropical fish?"

DJ Smith (Derek Hammond) Melody Maker 10/03/90
NME interview May 89 Sounds interview Feb 90
Sounds live review Dec 90 Sounds interview Jan 91
Melody Maker interview Feb 91 Melody Maker live review Aug 91
If you can't see the contents window on the left of this page go to